I'm linking up today to share my 5 on Friday! :)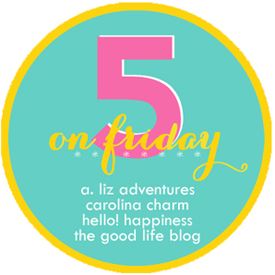 I'm typically not the type of person to make New Year's resolutions. I'm not quite sure why, but I do always find myself trying to begin new habits and get healthier, more organized, etc. This year I'm focusing on five things: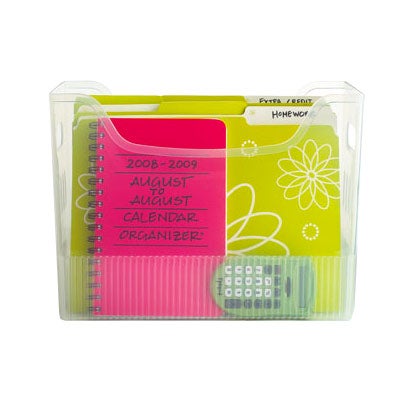 1. Organization. I've gotten new baskets for the shelves in my laundry room (after a few more finishing touches, I hope to share it with you soon!) and I'm currently in the process of cleaning out my filing cabinet. The beginning of the year is always perfect for getting all of my paperwork in order because I can get a headstart on my taxes. Our local news morning show had an organizational expert on the other day and she mentioned
these portable file holders from The Container Store
. I'm an organization and office supply nerd, so I headed over that week and picked a few up for myself. I love them! They're clear, so it is easy to see (cute) file folders and differentiate without having to put labels on them. They also fit perfectly on our Expedit shelf from Ikea, if anyone else is wondering. :) We have an office with a regular filing cabinet, but I always end up moving my piles of stuff to the living room so I can be near the husband while I work, so these are great for that. I'm also keeping an empty one for things "to be filed" because I know I won't keep up with my filing all the time. If there is a specific spot to keep paperwork that needs to be put away, I will actually put it there and then file it correctly when the bin is full....at least that's my plan!
2. Home. I've read a million times that one of the common factors among less-stressed, happy people is that they make their beds every morning. I was brought up this way, but after my freshman year of college, I got lazy. Then I was good about it when we first got married, and then again when we bought our new house, and when I didn't work, etc...but I've gotten lazy again. James is still in bed for nearly an hour after I get up in the morning, so I've always used that as an excuse--but no more! It really does make a difference to come home to a neat bed and it only takes a few minutes in the morning. I'm really going to try to stick with it this year. I've also been trying to take a few minutes every night to pick up before bed. It's only supposed to take a month to develop a new habit...or something like that, right?
3. Wardrobe. I'm very guilty of falling into outfit ruts. I have several pairs of J Crew Factory Winnies (LOVE!) and wear them way too often. I'm a cardigan and flats girl, too. I try to mix it up with accessories, but a lot of days I just throw on whatever doesn't have to be ironed. I'm trying to get better about that. I went through my closet and drawers and got rid of things that I hadn't worn in a while or knew I would never wear and I've been trying to slowly add more dresses and skirts to my circulation. I'm taking five minutes before bed to pick out an outfit and it makes such a difference! Why did I wait so long to start doing this? At night, I'm much more willing to take an extra minute to think about an unexpected pair of shoes, earrings, or necklace to complement my pieces. Plus, I know before I got to bed how much time I need to allow in the morning for ironing. I haven't yet worked up to getting the actual ironing done the night before! (Check out my Pinterest board
here
for some of my favorite outfit inspiration).
4. Simplifying. I love stuff. I can't help it. Lately, though, I've just gotten sick of it. I've been slowly going through drawers, closets, and cabinets to get rid of things. I reorganized my bathrooms cabinets recently and found 100 bobby pins, 15 small butterfly clips, and 20 headbands! Not to mention the total overload of hairsprays, volumizers, body washes, and lotions. I love buying new products and trying them out, so even when I love one, it tends to get put in a drawer and forgotten when I find something else I can't wait to try. Last weekend, I put a ton of nearly-full bottles under the sink and filled my drawer with all the leftover bits of products. To me, there is something so satisfying about finishing a bottle of shampoo or whatever else...which probably means I don't finish them often enough! Anyway, I'm doing my best to use up these little bits left in bottles so that I can get back to just the few products that I really like and use most often. It is nice to look into a cabinet and actually see items instead of a pile!
5. Diet. I was a vegetarian for many years, but even since I started eating meat again I don't get enough protein in my diet. I don't enjoy meat (besides the obvious bacon) and typically force myself to order it because I know I need it...and I still end up picking around most of it. To help offset that, I've been drinking protein shakes in the morning. A lot of the guys I work with drink them and they assured me that it wouldn't make me "bulky," so I gave them a go. I've been ordering the
Metabolic Reset powder
from Amazon and mixing it with skim milk. That adds up to about 230 calories for 21 grams of protein and 7 grams of fiber! I wouldn't say they're delicious, but for the nutrients I am getting, I definitely don't mind the taste (although my verdict is still out on the strawberry...). My doctor also insisted that I start taking folate, so I found a multivitamin with that and fish oil. My husband laughs, but I get the gummy ones because I know I'm more likely to take them that way. :)
What have you been doing to improve your life this year? I'd love your suggestions!